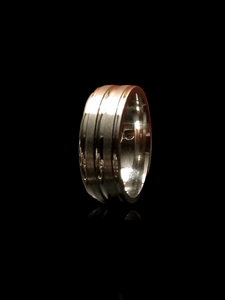 Exclusive Quantum Realm Manipulation Talisman
Regular price
Sale price
$150.00
---
PHYSICAL ATTRIBUTES
A simplistic and versatile silver hued band ring, which feels and appears much like stainless steel
KNOWN HISTORY
Today I am honored to present an incredible part of our Premier Collection, a Talisman volume crafted by an elite Coven which manipulates and influences the Quantum realm to positively influence the way reality will go.
A powerful Magickal creation, this has been crafted by a diverse Coven of seasoned, spiritually & metaphysically-versed practitioners using what has become known as their trademark, so to speak, metaphysical blueprint – their very diverse and multi faceted background of elite Magickal skills and knowledge; the same Coven which crafted the famed Lottery Winning Quantum Manipulating Wealth Talismans.

For those who are unaware, they are a Coven based on the Western coast of the US, made up of highly skilled professionals who keep their Coven identity professionally secret, because as many of you may have had the misfortune of experiencing yourselves, some people can be more than just judgmental towards those of us who embrace and utilize the Unseen, Metaphysical world all around us; some people respond with hostility, hate, and, as history as clearly shown us time and time again – violence.

So, rather than potentially jeopardizing their careers, or the safety of their families or themselves, they choose to remain faceless.

By day, and to the outside world, they are aeronautical engineers, Doctors and Professors in Physics, Anthropology, Religion and Astronomy, Instructors in Energy Work, and Professional Psychic Healers and Spiritual Guides. All are extremely knowledgeable, intelligent, successful, wealthy professionals. By night, and to those who have the honor of knowing, they are a fantastically unique and powerful Coven of Energy Workers, Alchemists, Astrologers and Astronomers, Expert Physio-Psychic Craft Workers, and Polar-Magnetic Experts, a Coven unlike any other.

Their Talismans are undoubtedly of the most aggressively powerful Magick which truly makes their Talismans unparalleled.

Their combined practices, rituals, spells and procedures harness vast fields across various planes to create Talismans with very specific energies and powers, creating tangible items which stimulate the Quantum and spiritual realms to favor specific potentialities. This manipulates the ever changing, ever moving energies and auras around you to move, shift and morph to produce and manifest true, dependable, undeniable, trusted results.

How this Talisman differs from the other 2 volumes made by this Coven is that it is not limited to one specific area (wealth), but rather, it universally covers all areas - wealth is but one of the infinite potentialities.

We have the power to create our own realities. We create our own realities with our actions, thoughts, intentions, how we choose to respond & what we believe. Life is what you make it to be. You are here, creating your reality at this moment - create the reality you want. The Magick within this helps you do this with intentional force; it converts your wants, your dreams, your desires into action, in a complex energetic web of power.

Change does not happen without action. By taking action to make your desires reality, by taking action to possess the power in this Talisman, it will manifest the changes you long for most in this world.

People like Bill Gates, Jeff Bezos, and Mark Zuckerberg did not wait around for change to happen. Don't think for a second that they've never used Magick to make things happen, because that's far from the case. It's the people that dare to step outside of conformity and utilize the resources that exist around them within this universe, that manifest what they set out for most.

Every possible potential in which the power to control and change by manipulating and influencing the quantum and unseen realms has been accounted for in its dynamic, Magickal creation. All roads woven through this piece lead to you having the power of control and change what happens in your life.

The pwers of this Talisman are of the highest, all-encompassing, aggressive force and will give you the power to control and change the shape of your future, your reality.

With this Talisman, various Magickal processes have been choreographed to consistently, perpetually encompass your life force energy and the energies of and within the physical, spiritual, metaphysical and quantum realms, covering every potential opportunity for power and control. You will draw forth the power to aggressively manifest action and results.

Such as with their other 2 volumes, a very long process went into this crafting, dependent upon very specific astrological alignments to the Earth's positioning to our planets, the Moon, amongst all the other many factors. These specific planetary alignments in relation to Earth and our Moon are not things that can be replicated or substituted. It will not be for quite some time until these alignments come again, so if you have your eye on this rare and powerful Talisman from this Coven, now is the time to claim it as your own!

This is an ultra-rare exclusive offering from this Coven. As you have seen in the past, they made a limited number of these. You don't miss out on this Magickal masterpiece! They will not be able to make any more of this exact formulation for years, so what there is, there is; what there isn't, there isn't.

This Coven has created Talismans that we have had the privilege of possessing and testing in the past, that proved their power time and time again. We have temporarily fostered several others of similar Magickal and Metaphysical creation, and each and every single one from this Coven has brought a crazy number of manifestations and results of their supreme power.

True Magickal Talismans have existed in our world for centuries - amulets, rings, stones, and other objects of real Magick of authentic provenance. Genuine, true Magick Talismans still exist today, just as vibrant as ever, but they are becoming rarer and rarer to find, and for the untrained or inexperienced, it can be next to impossible to know what is real and what is an ordinary, "empty" everyday object. But here, today, you do have the rare opportunity to keep and possess a true Magickal Talisman of your very own, a blessed item that can and will impact your life for the best.

When your first come into contact with such an intense Talisman (or Spirit vessel) such as this, its intense energies begin to intertwine with your own. It is normal for some to feel a little lightheaded, dizzy, a little spacey, some may get a headache, some can experience a feeling of sensory overload, or of disconnect – that feeling when you first astral project, or, when you're falling asleep sometimes this can be felt – that feeling of sudden disconnect/detachment from your body for a few brief moments, usually starting with the legs. Not everyone will of course experience one of these, but some will.

These sensations are not uncommon with Talismans from this Coven, and will quickly pass, there's no need for worry. If you don't feel them, there's no need to worry either, as this means that you're naturally more inclined to not be affected in such a way by these energetic differences. Regardless if you feel physical symptoms of these changes or not, those energies and the power of this ring is there. With them, the cusp of a new life begins. In every stage of life, we have new challenges and tests, but also opportunities, all of which require our belief and intent to move forward.

Above all, it is our belief and intent that is the foundation of Magick, but choosing to put our belief and intent into action is what creates manifestation.

Without it, Magick does not exist. You must believe with intent, and take action, and you too will share in the boundless opportunities that the Universe has waiting for you.

Whether we choose to put our belief and intent into action or not is the difference between manifestation, and inertia.

As this Talisman stays with you, the powers grow, as does the potential for happiness and fulfillment.

Remember, this aligns its powers with its Master, so the more manifestations of its Magick while in your possession, the more energy signatures there are surrounding you - these signatures are like permanent flags, or, like tarmac lights, which continue to accumulate around you. Imagine looking at the Earth from Space, and seeing a densely concentrated aura of light where you are on Earth, flashing lights that grow in number, that attract the energies of change. The more manifestations, the more powerful the manifestations become, and more abundant, as each energy signature holds, of course, energy.

You may or may not believe in fate or destiny, but whether you do or not, you stumbled upon this listing for a reason, this one listing out of the trillions of other pages you could be on online now at this very moment. You found this listing and that reason may be because you are on the verge of something life changing.

If you are drawn or pulled to this particular Talisman, if you have any questions or concerns, any comments or curiosities, or would like to submit any offer, please do not hesitate to ask! We are always happy to help and assist in any way we can! We feel everyone deserves to have the opportunity to experience the Metaphysical. Everyone deserves to experience the Magick that the universe has to offer! We have helped make this possible for many in our time, and we hope you will give us the honorable opportunity to bring true Magick into your life too.
IF YOU FEEL INTUITIVELY PULLED OR ENERGETICALLY DRAWN TO ANY OF OUR MAGICKALS, KNOW THAT WE ARE HERE TO OFFER THESE RELICS TO ALL, REGARDLESS OF ONE'S ECONOMIC STATUS. YOU CAN BE ASSURED, WE TREAT ALL OFFERS WITH RESPECT AND DIGNITY, AND OPENLY INVITE YOU TO SUBMIT YOUR OFFER TO
THEHAUNTEDHIVE@GMAIL.COM
WE BELIEVE THAT EVERYONE DESERVES TO HAVE POSITIVE AND PROFOUND METAPHYSICAL EXPERIENCES, AND IT IS OUR MISSION TO SERVE FELLOW TRUTH SEEKERS AND SPIRIT KEEPERS; TO AWAKEN AND INSPIRE THE MAGICK IN OTHERS, ONE PERSON AT A TIME.
---