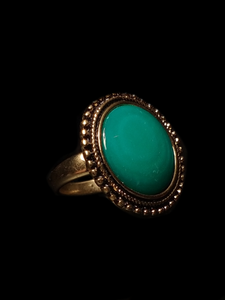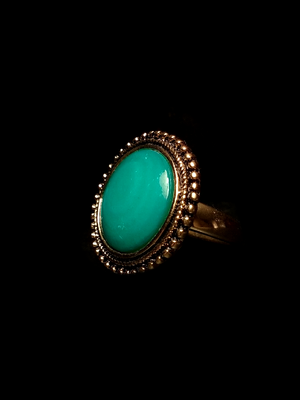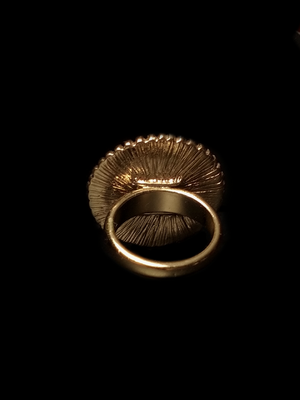 Archangel Uriel, Angel of Guidance, Protection, Creative Consciousness & Knowledge – Great For Beginners!
Regular price
Sale price
$100.00
---
PHYSICAL ATTRIBUTES
Size 7-7.5
A simple gold toned ring, featuring a circular, teal hued cabochon, in very good condition.
KNOWN HISTORY
It is my distinct honor to present this beautiful ring of divine, angelic power; fully invoking the archangel Uriel.
Within the celestial hierarchy, there is the divine archangel, Uriel, the angel of guidance and provider of protection. In the book of Enoch, Uriel is one of the archangels who protected humankind from the fallen angels, and some say it was Uriel's guidance of the prophet Enoch which led Enoch to ascend into the archangel realm, becoming the archangel Metatron.
Uriel is an illuminated being of the highest angelic realm. His absolute energy and presence, so magnificent and bright, capture all that is good within the world and all that is pure and sacred within all of creation
He provides unconditional guidance, greater than the wisdom of ten thousand teachers; unconditional protection, held stronger than the shields of ten thousand warriors; and unconditional love, full with the eternal grace, compassion, and understanding of the highest power of the heavenly divine
A pure spirit of devotion and selflessness, unburdened by the heavy weights of judgement, stereotyping, and prejudice, archangel Uriel is open to all, regardless of any mortal "labels" one may or may not identify with. He will never bring you nor anyone harm, however, will use the full force of the archangelic to protect you!
If you or a loved one could use some divine guidance in school matters, you will be happy to know that Uriel often works in tandem with the archangel Zadkiel, particularly to help students excel on tests and in school
FIRST CONTACT + ACCLAMATION
When making first contact with magickals of such profound divine energy, you may experience a sense that feels similar to astral projection – that feeling of disconnect from your physical body, yet completely immersed connectivity to the universe. You may experience lightheadedness, feelings of elated happiness, excitement, a sudden sensation of euphoria, feelings of calmness and relaxation, or others. This is the energies around you, aligning, rearranging, negative energies departing, positive energies remaining, propelling you upwards, through the magick & energy of the archangel Uriel entering your life, intertwining with your own energies & your spiritual matrix. These sensations are signs that you are on the cusp of a new life. In every stage of life, we have new challenges & tests, but also opportunities, all of which require commitment & intention to move forward, to progress towards being the best human you can be, to fulfilling your life's potential for success & happiness
As you acclimate to the divine presence of the archangel Uriel, he will find the illumination of your mind with creativity in all aspects of thought and form. His divine guiding energy will begin expanding the reach of your conscious mind, inspiring your thought processes with wisdom, insight, information, ideas, and epiphanies, and giving you the knowledge of things unlearned. His guiding energy presence will give you solutions, original ideas, answers to questions and ponders. He will guide and protect all of your intellectual pursuits and spiritual endeavors.
MANIFESTATIONS
Uriel can manifest in many, many of ways, from white mist to flashes of light, orbs, streaks of energy, or sparkles of light. He can manifest as a "boost" or that extra push needed sometimes to reach a deeper level of understanding, a deeper level of insight, etc. He may manifest as sounds, or aromas…
With the presence of beings of divine power, although their power is drawn from the divine, it is not uncommon for various appliances or electrical items in your home to be effected at times. He isn't necessarily drawing energy from them, but more so, they can sometimes inadvertently be effected by the sudden influx of drawn energy within the near vicinity. You may find that batteries may die faster than usual, or static on your tv, or, bizarre radio frequency stations coming through sporadically. For example, my home is in the metro Detroit area, I was listening to a local radio station in the car, then I randomly started hearing another station coming through from los Angeles
Archangel Uriel manifests in some ways that are most helpful, and unique to him. He often will whisper things in your ear, or telepathically in your mind, such as answers, or he may offer his divine insight in a matter or scenario to help you, such as when taking a test, in a business meeting, an interview, etc.
BONDING + MEDITATION
One does not need to have any prior experience with archangel Uriel. He does not require vast amounts of individual attention, and does not require one to possess any supernatural abilities.
Some people may at first have difficulty differentiating his "voice" from your own thoughts, however, there is a very simple yet profoundly powerful remedy for this that packs a vast impact on not only having the ability to be receptive of spiritual communications, but in all aspects of one's mortal and spiritual existence. This remedy is the act of meditation.
Meditation is the greatest exercise one can do to connect to your spirit, yourself, and all of creation. Meditation is the truest form of expressing divine feminine energy – to simply be, to enter the stillness and quiet of the feminine void; the place of nothingness from which everything from thought to life comes.
For millennia sacred rituals have been used as a bridge between earth and spirit. Even when you create and participate in a simple ritual and ceremony such as lighting a candle for yourself, you are awakening your divine feminine essence. Any kind of sacred ritual is an intentional statement to your higher self, a timeless connection to the great feminine energy, the fertile void of the universe, and the perfect way to not only communicate and bond with divine beings, like archangel Uriel
It is in meditation where you will cultivate awareness. To simply just be, and allow the physical world to turn off, as you enter a state of meditation.
There is no "right" or "wrong" way to meditate. The simple act in practicing it allows you to be more aware, of many things I could type for days about. But the bottom line is, if you're having trouble "hearing" Uriel, or wish to bond, to simply share this sacred space in time with him or any light being, meditation is a wonderful way to do so.
Do not ever feel embarrassed or awkward of any thoughts you may have. Never feel awkward in trying to reach out to him!
SPIRIT KEEPER READY
There are no binding spells needed to perform when you receive this, it is completely ready for use. All that is needed is to accept this small magickal offering into your life, and you can begin your new life, guided by the divine, archangel Uriel.
You can wear this vessel, keep it close to you, at your bedside, or if you make a little area for Uriel, you can place it there when you're not wearing it. 
Uriel will guide and protect you in all circumstances and supports the highest good and every fulfillment for his keeper. He is thoughtful and reflective, having depth to his presence and intellect, and rejoices in the success and happiness of those who enjoy his guidance. He will remain with you for all of your days with this vessel and you will experience and live a life that overflows with all the greatest blessings one can imagine!
All that is needed is to invite this loving, powerful archangel into your life, and your weaknesses will turn into strengths, your fears into excitement, and your struggles into opportunities and blessings!
You may or may not believe in fate or destiny, but whether you do or not, you stumbled upon this listing for a reason, this one listing out of the trillions of other pages you could be on online now at this very moment. You found me & this listing & that reason may be because you are on the verge of something life changing.
If you have any questions or concerns, please do not hesitate to ask. I am always happy to help in any way I can.
IF YOU FEEL INTUITIVELY PULLED OR ENERGETICALLY DRAWN TO ANY OF OUR MAGICKALS, KNOW THAT WE ARE HERE TO OFFER THESE RELICS TO ALL, REGARDLESS OF ONE'S ECONOMIC STATUS. YOU CAN BE ASSURED, WE TREAT ALL OFFERS WITH RESPECT AND DIGNITY, AND OPENLY INVITE YOU TO SUBMIT YOUR OFFER TO
THEHAUNTEDHIVE@GMAIL.COM
WE BELIEVE THAT EVERYONE DESERVES TO HAVE POSITIVE AND PROFOUND METAPHYSICAL EXPERIENCES, AND IT IS OUR MISSION TO SERVE FELLOW TRUTH SEEKERS AND SPIRIT KEEPERS; TO AWAKEN AND INSPIRE THE MAGICK IN OTHERS, ONE PERSON AT A TIME.