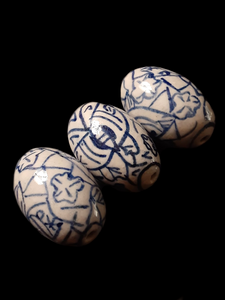 Extremely Potent Sexually Charged Attraction Talisman
Regular price
Sale price
$40.00
---
PHYSICAL ATTRIBUTES
Being offered for sale today is a Talisman specialty art bead which feels to be made of ceramic or porcelain, and has good weight to it for it being a bead.
KNOWN HISTORY
Metaphysically crafted myself, this sexually charged Talisman is packed with a plethora of various but very specific energies, completely encapsulating all things sex. It is extremely potent, and, as with all of our pieces, should be purchased by adults 18 and older only.

The power within this Talisman is highly faceted in the way that it aligns to your sexual energy. The Magick and energies within it encourages opportunities and situations for you to actively live out your innermost desires in real life.

You are in full control of this Talisman, and understand that it does not bend anyone's free will! You will never find a love or sex talisman on THH that goes against one's free will. It uses extremely powerful, intoxicating energies to elevate your sexual energy and promote all sexual eventualities, serving as a proponent of deeply robust magnetism. Removing inhibitions, fear, and pressure, amplifying your virility, confidence, and charisma, others will be drawn to you with an irresistible level of attraction. Their carnal instincts will climax, filling them with an insatiable hunger for you.

Be it a one-time fling, an ongoing romance, spirit partners, a lover from the past, or an existing relationship that is in peril and black of intimacy, this Talisman will awaken those instincts and bring to life all of your deepest sexual desires.

Now, this isn't an overnight thing (pun intended), understand that it can take time for the timing of said sexual adventures to align into a solid manifestation, but I guarantee that with this incredibly potent Talisman, your desires and fantasies will come to fruition.

There are no rituals for you to perform, no spells for you to cast, you do not need photographs, a lock of their hair, or any personal relics of theirs in order for this to work. All that is needed is to invite this Powerful Magick into your life and keep this Talisman on or near you (the more contact with your skin, the better) while visualizing your intended desires, allowing these sexual energies into your body.
If you feel intuitively pulled or energetically drawn to any of our Magickals, know that we are here to offer these relics to all, regardless of one's economic status. You can be assured, we treat all offers with respect and dignity, and openly invite you to submit your offer to
thehauntedhive@gmail.com
We believe that everyone deserves to have Positive and Profound Metaphysical experiences, and it is our mission to serve fellow Truth Seekers and Spirit Keepers; to awaken and inspire the Magick in others, one person at a time.