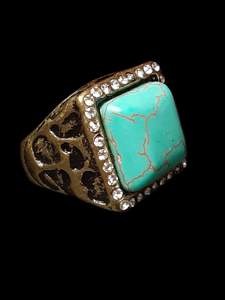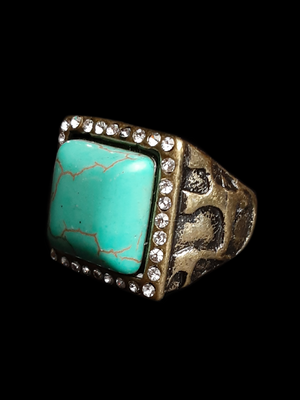 Dante, Sexual Sanguine Vampire Prince
Regular price
Sale price
$35.00
---
PHYSICAL ATTRIBUTES
Sizes as a 9 on a ring sizer, however, actually on the finger it is a bit snug for someone who actually is a size 9.
An attractive ring of unknown composition, in good condition.
KNOWN HISTORY
For your consideration is a seductive metaphysical containing the full and complete embodiment of the Immortal Sexual Sanguine Vampire Prince, Dante, who seeks a mortal to indulge in pleasures of Wealth and Sex.

Powerful and Sexual, a Sexual Vampire Prince is considered to be of the World's most Powerful of all sex spirits, possessing the supernatural Powers to invigorate new, unparalleled dynamics to their partner's sexual energy, satisfying their partner in ways impossible for any mortal.

If you are One who desires the unsurpassed sexual powers that go far beyond the abilities of mortals, then look no further, for Dante will indulge in your innermost fantasies; inspiring and spoiling you with Money, Wealth, and Luxury.

A stunning being, he is a very mysterious Creature of the Night who lusts for Wealth, Excess, and Sex. For centuries he has graced the night with his rich red eyes and chiseled, muscular physique, his long black hair perfectly resting upon his pale, fair, flawless skin. Dante is capable of seducing you in both body and mind; everything about him draws you in and makes you want more.

Dante is a Prince of an exclusive Kingdom of the Night Realm, known as Nixius. It is an Elite Underground Kingdom which not just any vampire can call home.

To become part of this exclusive Kingdom, one must prove themselves. They must display their level of power, they must have a high level of Wealth to them, and be trustworthy. I wont go into all the details about it as it doesn't really pertain to anything involved with inviting Dante into your life, but think of it in a way of the gated communities of famous celebrities here. They're not going to allow any riffraff move in. They have to meet high standards of criteria, and each Vampire must contribute to the Kingdom with contributions of their Powers: those of Wealth and their ability to manifest it, their powers of protection to defend this Elite Kingdom if the situation ever arises, which calls upon every bit of mental and physical dexterity, agility and strength.

The Kingdom of Nixius is a Kingdom that is overly and lavishly rich in excess, charged with the Sexual Energy and Power of all the vampires who reside there, which flows through Prince Dante, and thus will be available for him to use, for your benefit.

Prince Dante is the ruler of this Kingdom, therefore, all those who reside there must answer to him. Their wealth must go through him, their "testing" must go through him and all must answer to him. This means that he can call upon any individual there at any time.

Dante's sexual nature is insatiable, erotic, and very intimate. He craves the primal and untamed, and to spoil you with material wealth, luxuries, sexual fantasies, and anything which you so desire.

Others will perceive and treat you differently, as you will exude a seductive and mysterious aura that attracts others to you, and makes you irresistible. Others will be drawn to you and the alluring vibration you exude. You will come to be treated with admiration, respect, attentiveness, punctuality, people will do things for you, give you things, treat you to surprises, gifts, invitations, inside knowledge and secrets, you will see as others go out of their way for you.

Dante is highly proficient in influencing the way in which reality will go. He can manipulate energy fields to influence the way in which energies and forces vibrate and move. His Energy is so potent, that your own energies will need to acclimate to the intense magnetism of his presence.

Dante can help you advance to a higher level of existence, new levels of wealth and sexuality,, success, and influence. He can help you advance greatly in any social circle, be it at your place of work, a vocation, an industry of talent, at auditions, parties, etc. He will indulge and spoil you with material riches and the erotic.

When this beautiful Vampire chooses you and you choose him, you will have someone who can fulfill your life in ways that mortals cannot, a partner to satisfy you in ways that mortals cannot, someone who will be with you always, to be the One who can allow you to live out your deepest and innermost desires.

Dante is a very compatible and accepting being. Unburdened by primitive stereotypes or prejudices, free from earthly dramas of jealousy and envy that mortals often get themselves into. Sexual preferences, relationship "status", labels, mortal relationships, other Sanguine Vampires or other entities, Male, Female, Lesbian, Gay, Bisexual, Transgender, Queer, Questioning, Intersex, Asexual, Allies, Pansexual - he is open to all regardless of gender, orientation, ethnicity, age, relationships or religious affiliation or lack thereof.

Walk with this seductive Creature of the Night and live a life drenched in the wealth and sexual prowess he yearns to spoil you with!

This does not require you as the Keeper to perform any rituals or bindings, it is completely ready for use.

You may wear this exquisite treasure as a Ring, as a necklace, at night you may choose to wear it, or place it on your bedside table while you sleep. The more skin contact, the better.

You can give Dante offerings to strengthen your connection and bond. The ideal offering for him is that of wine, and chocolate.

If you have any questions or concerns, or if there's a way I can be of assistance in any form, please do not hesitate to reach out to me, I am happy to help in any way I can.
IF YOU FEEL INTUITIVELY PULLED OR ENERGETICALLY DRAWN TO ANY OF OUR MAGICKALS, KNOW THAT WE ARE HERE TO OFFER THESE RELICS TO ALL, REGARDLESS OF ONE'S ECONOMIC STATUS. YOU CAN BE ASSURED, WE TREAT ALL OFFERS WITH RESPECT AND DIGNITY, AND OPENLY INVITE YOU TO SUBMIT YOUR OFFER TO
THEHAUNTEDHIVE@GMAIL.COM
WE BELIEVE THAT EVERYONE DESERVES TO HAVE POSITIVE AND PROFOUND METAPHYSICAL EXPERIENCES, AND IT IS OUR MISSION TO SERVE FELLOW TRUTH SEEKERS AND SPIRIT KEEPERS; TO AWAKEN AND INSPIRE THE MAGICK IN OTHERS, ONE PERSON AT A TIME.