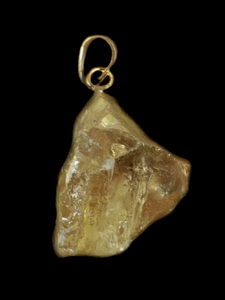 Essence of Abundance, Powerful Ancient Wealth Spell Cast Citrine Crystal Talisman Amulet
Regular price
Sale price
$35.00
---
PHYSICAL ATTRIBUTES
A beautiful citrine quartz crystal pendant, in excellent condition.
KNOWN HISTORY
For those searching to bring Abundance in Financial matters, this Powerful beauty will bring about the manifestation of money in ways that create real, rapid results in your daily life.

Possessing an Ancient and Powerful Wealth Spell rich in the essence of Abundance, this fortune-flourishing crystal cultivates an Energy that is fertile for Financial Growth.

Known as a Money Stone, the natural Metaphysical Powers of Citrine make it the ideal conduit of Abundance through which this Ancient Spell can operate to those who allow it to fill their outlook with positivity.

Piece by piece you will begin to notice facets of your day to day life Elevate, as the very essence of Wealth and Abundance pours in to fill your Future with Prosperity, Comfort, and Happiness.

You will find your Optimism and Energy levels Strengthened and Fortified, that you possess a Power, Centeredness, Confidence and Endurance that radiates a positivity and magnetism to all you encounter, attracting all sorts of new people and opportunities your way.

The Magick within this potent Talisman will rid you of fear and self doubt, giving you the courage and confidence to take on any obstacles and challenges and emerge successfully victorious, bringing you to a place of Opportunity, Prosperity, and Abundance.

There is no waiting period for this Power, and nothing you must do. As soon as you wear this piece, you will begin to feel its energy working on your body. You can also place it in your home or office to manifest an Abundance of Positivity and Material Wealth in your Future.

All that is needed is to invite this Powerful Spellcast Crystal Talisman into your life, and it will manifest a lifetime of Abundance, Wealth, Relaxation, and Happiness.
If you feel intuitively pulled or energetically drawn to any of our Magickals, know that we are here to offer these relics to all, regardless of one's economic status. You can be assured, we treat all offers with respect and dignity, and openly invite you to submit your offer to
thehauntedhive@gmail.com
We believe that everyone deserves to have Positive and Profound Metaphysical experiences, and it is our mission to serve fellow Truth Seekers and Spirit Keepers; to awaken and inspire the Magick in others, one person at a time.