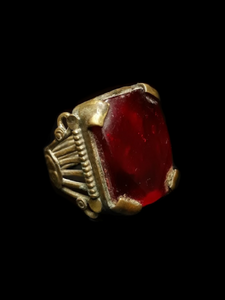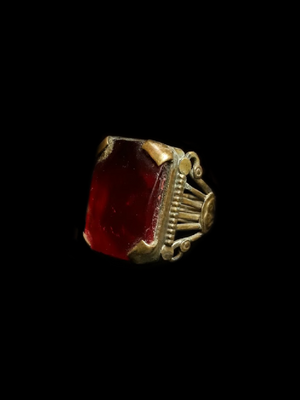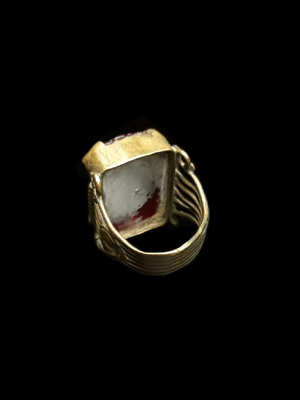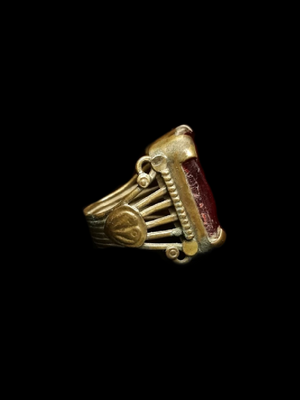 PREMIERE COLLECTION ANTIQUE Authentic 18thC King Louis XV Gift from Madame du Pompadour, Venerated Metaphysical Relic & Investment
Regular price
Sale price
$1,200.00
---
PHYSICAL ATTRIBUTES
Size 7
One of our rare, Premier items, this stunning, exquisitely crafted antique ring dates to 18th Century France. Intricate scrolling designs, so elaborate and regal, frame a large, deep blood red glass gem. There is natural patina and visible signs of its age and wear. This is such an exquisite piece of old-world craftsmanship, well made and so impressive to behold. It is truly a collection centerpiece, that is more than well worth its antique and Occult value.

KNOWN HISTORY
For the serious collector I am thrilled to present to you one of our most esteemed metaphysical valuables; a gem of true historical significance and an irreplaceable metaphysical artifact.

Obtained from a confidential source of ours, this piece was recently unearthed as the counterpart to the only other Madame du Pompadour piece we've had, found here https://thehauntedhive.com/products/premiere-collection-antique-authentic-18thc-madame-du-pompadour-esteemed-relic-advantageous-metaphysical-investment

Our utter surprise to learn of this counterpart takes the cake as one of the top moments of surprise we've ever had when it comes to such things. It is not everyday one comes across not only a counterpart metaphysical artifact, but to come across one held by Madame du Pompadour and King Louis XV? Well, this is a first! In the 100+ years our family has been doing this, this is a first.

Now, to get to the history and details. I will both be directly referencing its counterpart, as it is necessary, whilst interjecting how this pieces into and completes this incredible puzzle.

Once kept by a highly respected Collector of many things, Baron Ferdinand de Rothschild, and his sister Miss Alice, this ring is a living piece of Attraction, Influence and Power; a Ring of Intrigue, Devotion and Beauty; a rare jewel of Friendship and Loyalty; Intelligence, Love, and Control; the centre of the French Court of Versailles for just one month short of 20 years and the epitome of Unconditional Devotion – this Ring is a personal relic, a Talisman which belonged to one of the smartest women ever associated with the French crown, the maîtresse-en-titre, best friend, muse, and love to King Louis XV, Jeanne Antoinette Poisson, more commonly and formally known as, Madame du Pompadour.

How this piece differs though from it's counterpart, is this piece was given King Louis XV, as a gift from Pompadour.

To truly understand and appreciate the Metaphysical and Historical significance of this exquisite Ring, and it's relation to it's counterpart, I invite you, my fellow collectors, to indulge in the juiciest history lesson you'll ever learn, one they certainly don't teach in school!

Born into a bourgeois Paris family on December 29th, 1721, to François Poisson and the beautiful Madeleine de La Mott. It was rumored that the Fermier Général, Le Normant de Tournehem was her biological father, as he quickly became her legal guardian when François Poisson was forced to leave the country in 1725.

When she was 5 she was sent to receive the finest quality education of the day in an Ursuline convent in Poissy, where she gained admiration for her wit and charm. She had poor health though and had to return home in January 1730 at the age of 9. Tournehem arranged for Jeanne Antoinette to receive the finest private education at home with the best teachers of the day who taught her dancing, drawing, painting, engraving, theatre, the arts, and the ability to memorize entire plays.

During this time her mother took her to a Clairvoyant Sorceress (one of the many spoils provided by Tournehem), by the name of Madame de Lebon – who is said to have been the daughter of a secret child withheld from Sacrifice by the infamous French Sorceress, La Voisin from the uber scandalous "Affair of the Poisons" of 1677 - 1682. Lebon was truly an incredible woman – a Master Conjurer, talented Psychic Medium, and natural Spellcaster who both Crafted and Collected Metaphysical pieces of Power.

It was Madame de Lebon who, contrary to what "history" tells us, didn't merely just predict that the girl would one day reign over the heart of a King…

Intuitively curating both this piece for the young Jeanne Antoinette as well as it's counterpart, bestowing her with both, ensuring that she would one day reign over the Heart of a King. The Power within would secure her Influence, Wealth, Beauty, and her Legacy as a Professional Woman and a Cultural Icon.

While it was unclear before, we now know Lebon crafted both rings herself.

Henceforth she became known as "Reinette", or "Little Queen". However, she was not to become Queen, but she would prove to have far more sway in France than the Queen herself. She not only captured the position of official Mistress of King Louis XV, but for 20 years, up until her death, she had captured his Love and his sole Trust.

At the age of nineteen, Jeanne Antoinette was married to Charles Guillaume Le Normant d'Étiolles, and was given the estate at Étiolles, just south of Paris, which oh-so-conveniently for her, just so happened to be situated on the edge of the royal hunting grounds of the forest of Sénart.

Jeanne Antoinette valued her own Loyalty and Virtue for their sanctity of marriage, even if it was arranged for social and financial benefit by Tournehem, and vowed that she would never leave him – except, that is, for the King.

Jeanne Antoinette's marital status granted her exclusive access to the celebrated salons of the cultural Elite in Paris, such as those hosted by Mesdames de Tencin, Geoffin, du Deffand, and others. Within these salons she crossed paths with principal figures of the Enlightenment, and she became well known for her many, many charms and talents.

It was not long before Jeanne Antoinette created her own salon at Étiolles, hosting many of the cultural elite, among them were Crébillon fils, Montesquieu, the Cardinal de Bernis, and other Enlightenment intellectuals like Diderot and Voltaire, who, was particularly amazed at the number of books she had read.

It was within these salon circles that her fine art of conversation and sharp wit became known, and on which her reputation as "the prettiest woman in Paris" arose, which had, often, been touted intriguingly in the court circles.

Louis XV had heard the name Jeanne Antoinette mentioned at court, particularly speaking of her Beauty and wit. He knew the royal hunt sometimes passed through the Sénart forest, where she lived at château at Étioles and in 1744, set out to catch a glimpse of her. He did, she was dressed once in a pink dress with a blue carriage, and once in a blue dress with a pink carriage, and the King sent a gift of venison to her, and then sent her a formal invitation to attend a masked ball held at Versailles to celebrate the marriage of the Dauphin Louis de France to Infanta Maria Teresa of Spain.

It was at this ball that that Pompadour bestowed King Louis XV with this ring.

The disguised King publicly declared his affection for Jeanne Antoinette, unmasking himself before all of court and Jeanne Antoinette – who was, in reference to their encounter in the forest of Sénart, dressed as Diana the Huntress.

Louis was absolutely captivated by her many charms. Her Beauty, Wit, Intelligence, Elegance, and Fearless yet Graceful confidence captured his intrigue and attraction.

It wasn't long before the official separation between her and her husband was pronounced and she became the official Mistress of the King. The king purchased the marquisate of Pompadour and gave the estate, with title and coat-of-arms, to Jeanne Antoinette, making her a Marquise, as, one needed a title of such like nobility to be presented at court. In any case, on the day of her presentation to a snobbish court prepared to annihilate her with ridicule, she was perfection itself, and the new Marquise was given a sumptuous, fancy Versailles apartment directly above the King's, connected to the King's chambers by a secret staircase.

It was through this staircase in which, for the years to come, Pompadour would define the meaning of role play, sometimes appearing before him as a peasant girl of simplicity and grace, a languishing and voluptuous Venus, the proud beauty of Diana on the hunt, even a nun!

Pompadour alone was able to captivate and amuse him, and would entertain Louis with elegant parties, afternoons of hunting, and journeying between their various real estate holdings. She was an indispensable comfort to Louis who was prone to melancholy and boredom. She possessed a versatility of talent, she played and sang admirably, danced with grace and elegance; her acting was equal to that of the most celebrated actresses of the day; her conversation easy, brilliant, and fascinating, ever surprising the easily bored restlessness of King Louis XV.

Despite some being critical of her being a "commoner", Pompadour made her place at court secure, forging a good relationship with the royal family, mastering the highly mannered court etiquette. She was careful to stay on the queen's good side, and always show her Respect. The Queen never showed disrespect, jealousy, nor displeasure towards the King or Pompadour, for she believed it to be undignified for Royalty to behave in such a way. In fact, the Queen actually grew to like her, stating to her confidante (roughly translated) "if the King is to have a mistress, I would prefer it be her", and rose in rank to Duchess, up to the highest, most noble rank possible for a woman at court – the Queen's Lady-In-Waiting.

Madame de Pompadour was able to wield such influence at court due to the invaluable role she played as a friend and confidant of the King, becoming the only person whom Louis trusted and who could be counted on to tell him the truth. Louis relied on her as a trusted friend and advisor. She, out of all people that surrounded the King, was able to tell him the truth and the King greatly valued her opinion, enjoyed her conversation and went to her apartments rigorously every day.

She amused him by acting in plays, performing operettas, telling stories, and she listened carefully to the King's endless retelling of hunting anecdotes. She went out to meet the King and visit him when he was hunting, threw many a parties and functions. Her patronage with prominent artists and the constant refurnishing of the 15 residences she held with Louis were a way to capture the attention of the king whilst cultivating her public image as a Patron of the Arts and a symbol of French Pride.

Pompadour always had her hand in the arts as an influential patron and an artist herself. It was Pompadour who played a central role in making Paris the perceived capital of taste and culture in all of Europe. She championed French pride by constructing and later outright buying a porcelain factory at Sèvres in 1759, one of the most famous porcelain manufacturers in Europe, and, through the constant refurnishing of their 15 estates, it was she who shaped the Rococo Style as we know it today.

In addition to supporting the arts as a patron, Pompadour also participated in them more directly, having quite a creative mind. Besides being one of the few eighteenth-century practitioners of gem engraving, she was an acclaimed stage actress in plays staged at her private theaters at Versailles and Bellevue. She did etchings, played music, staged court amusements and curated and commissioned artists to produce works that were displayed in her private collection and at the court.

Five or so years after they met, the relationship between Pompadour and the king changed, when their sexual relationship ended completely due to Pompadour's poor health. The Marquise instead took on the solitary role of "Friend of the King" which she announced through artistic patronage, commissioning sculptures made to represent her as Friendship.

It is to her great testament that she remained at court in her royal position of official mistress for the rest of her life, until her death fourteen years later without performing that most important duty of the mistress.

Even though there was the lack of a sexual relationship, the King never lost his interest in her. He loved her, and trusted her, more than anyone else. He relied on her, sought her advice, which Pompadour was happy to give.

She took charge of the king's schedule and was a valued aide and advisor, despite her frail health. She secured titles of nobility for herself and her relatives, and built a network of clients and supporters. Pompadour wielded considerable Power and Influence; effectively playing the role of prime minister, becoming responsible for appointing advancements, favors, and dismissals, and contributing in domestic and foreign politics.

Her political mind can be attributed to her great collection of influential books. Voltaire himself was astounded by the vast number of books she had read, stating how "inexplicably, undeniably impressed" he was.

Although some blame her for a period of national struggle during the Seven Years War, it was through Pompadour's persistence in her support of important fiscal and economic reforms in trade, infrastructure, income taxes and the like, and it was She who conducted the social, cultural, and political orchestra which made France the richest nation in the world.

Louis XV remained devoted to Pompadour until her death in 1764 at the age of forty-two. Louis nursed her through her illness. Even her enemies admired her courage during the final painful weeks. She died at the Palace of Versailles, which, in those days was an honor reserved only for members of the Royal Family.

"I am very sad at the death of Madame de Pompadour. I was indebted to her and I mourn her out of gratitude. It seems absurd that such a beautiful woman, in the midst of a splendid career, should die at the age of forty-two." – Voltaire

She was a well-educated tastemaker, A major patroness of the philosophes of the Enlightenment, a patroness of the arts and a champion of French pride.

For nearly twenty years, until her death, in the second-best bedroom at Versailles, Pompadour reigned as the virtual queen of France—and perhaps one could say, its first meritocratically appointed civil servant. She had triumphed against her rivals, there was virtually no high commission, ministerial portfolio, alliance, diplomatic post, important public-works project, royal favor, invitation, or marriage contract authorized against the will of the Marquise.

No royal mistress in the minutely calibrated hierarchy of the ancien régime could ever be the Queen's equal, but this one made herself the King's master.

No French commoner—and certainly no woman—ever achieved such imperial sway.

At a place and time when many aristocrats had the intent of self gain, for obtaining the King's favor and all the perks that came with it, Pompadour surpassed them all with the Power held within these Talismans.

Women vied for his Love and Lust, men for his Trust and Respect, some for the demise of others they envied as a means to get closer to the King. The competition for his affections was fierce, because only a place very close to the king's side – whether in bed or out of it – offered access to the rewards, both material and honorific, that only he could bestow.

The most successful in their quest for the attentions of King Louis XV was, undoubtedly, "inexplicably, undeniably", Madame du Pompadour.

Pompadour secured the envied position of official Mistress with these Rings; such Metaphysical Investments from French Sorceress Madame de Lebon. With them, she not only attained her title as official King's Mistress, Friend of the King, and Lady in Waiting, but it ensured her Control, Influence, Wealth, Beauty, and Power for 20 years having his Heart, and his complete Trust.

The Power and Magick instilled within made Madam Pompadour the most Powerful individual in all of France, for they gave her Power and Control over the King himself. Both contain the Elements of Power, Beauty, Influence and Control; Powers that give it's Bearer an Unfair advantage and the Only Upper hand with anyone, and in any and all situations; while keeping all others obliviously unaware.

This is the exact ring given by Madame du Pompadour to King Louis XV.

It is to be kept in a safe, secure place. It does not need to be worn 24/7, but it should remain close as much as possible.

Thank you for your interest in this rare, Elite piece! If you have any questions or concerns, please do not hesitate to ask, I am always happy to help in any way I can.

If you feel intuitively pulled or energetically drawn to any of our Magickals, know that we are here to offer these relics to all, regardless of one's economic status. You can be assured, we treat all offers with respect and dignity, and openly invite you to submit your offer to
thehauntedhive@gmail.com
We believe that everyone deserves to have Positive and Profound Metaphysical experiences, and it is our mission to serve fellow Truth Seekers and Spirit Keepers; to awaken and inspire the Magick in others, one person at a time.