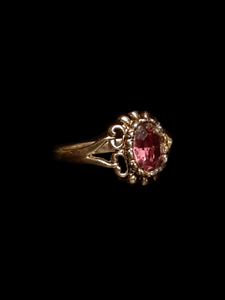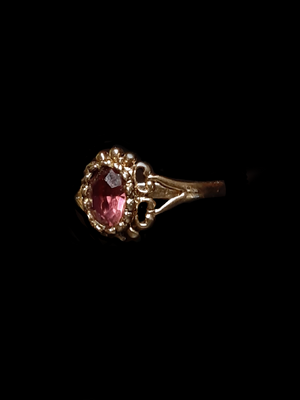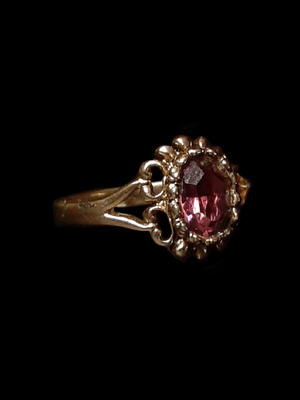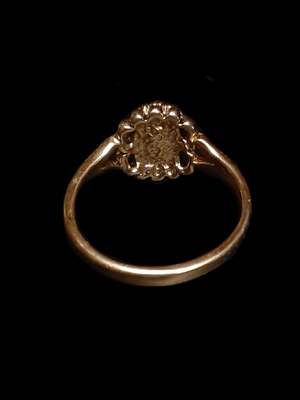 Talisman of Personal & Professional Growth & Success
Regular price
Sale price
$100.00
---
PHYSICAL ATTRIBUTES
Size 6.5
A very pretty vintage gold plated ring with an elegant floral aesthetic, and a purple gemstone. The exact composition of the gem is unknown, I really am not sure if it is a natural gemstone or if it was created by hand. It has been used previously, by me, and it is still in great condition.
KNOWN HISTORY
For your consideration is a piece very dear to me, one which I have personally used, love, and praise for it's truly life altering Magick.

Obtained in 2016 from a fellow witch and collector of Magickals by the name of Olyssia (who, as an interesting side note, I found out was the aunt of someone I went to elementary school with), a practitioner of white Magick for 40 years, she created this as a Talisman of personal and professional growth and success, and that it is!

With this Talisman in your life, you will find inspiration in places you would not have before. You will find you have more motivation, and excitement for what lies ahead, instead of worry or fear of failure. You will find a new found sense of confidence that you did not know you had tucked away. Ideas will come to you, and the passions that drive you will become real, concrete foundations in your daily life. Things will start falling into place – your endeavors will manifest in success, and the growth you'll experience will positively impact more than just your professional life, but also your personal and family life too. There will come a point when you realize that you've did it – you've made it, you have achieved what you may have once thought a far-fetched dream. But don't think it stops there – it is only the beginning of the next chapter in your life, what will be one of, if not the most fruitful, prosperous, productive and exciting periods you have ever experienced so far. Big changes to your day to day life, and an entirely new perspective of success, happiness, and growth for your future.

My personal experience with this has been something I will always be grateful to Olyssia for. When I first got this, it was when I found out that I would soon be "handed the reigns" as the next Curator of our collection – an amassment of Magickals collected for over 100 years, with hundreds of Talismans, relics, vessels and treasures, ranging from the newly made and modern, back to before the time of the early ancient Egyptian civilization. Now, this is something I always knew would happen, it wasn't like some big surprise curveballs out of left field or anything. It was my dream to be a Metaphysical Curator, deep down, that is what I always longed for, and felt like my very soul needed, most. Sure I had other passions, and still do – I became a licensed stylist and makeup artist like I always wanted to, and when my health declined and I physically couldn't anymore, plus with having a child with autism that needs special care, and the love and patience that only I could provide him, I became a Cosmetic Science Educator. I still teach others when I can, but it is no longer my full time job thanks to this Talisman here, I am able to fulfill my true Spiritual purpose each and every day. But back to the backstory behind this piece, needless to say I was excited but scared at the same time, to put it lightly. I was soon to be the sole head responsible for these heirlooms and prized possessions, and it was up to me to ensure that our clients remained as well taken care of as ever.

You see, prior to this, all of our metaphysicals were dealt with in person with our clients, or over the phone. This, along with paranormal investigations, working, kids, it was a lot to take on – stress, anxiety, fear of not living up to the expectations that I had for myself – as someone who has always been a perfectionist and my own worst critic, that fear was real.

This is when I reached out to a friend, client, fellow witch and trusted professional, one of the select sources whom I trust wholeheartedly when it comes to Magick, Olyssia. She has been at this since before my parents were even born, and already knew that my time to be Curator was approaching. She created this for me as a Talisman of personal and professional growth and Success, and that is precisely what I experienced.

After I brought this into my life, all of my circumstances improved. I became much more confident in myself and my ability to be the strong Curatrix that this collection deserves. My inspiration and creativity went through the roof – not merely in artistic value but actual creative thinking, and in my spellcasting, which, in this field, in my position, translates into success. The idea to bring our collection into the 21st century and bring it online was the most pivotal, life changing decision I was compelled to make having this in my hands (well, on my hand, technically).

When I brought our collection on line for the first time, it was to eBay, using eBay as our platform. That is what I felt compelled to do, versus starting out with our own website. When I looked at the Everything Else > Metaphysical > Psychic, Paranormal > Other Psychic, Paranormal category, I could see there were thousands of other sellers, but I had a new found confidence and determination to stand out, based on honesty and Integrity. And that is exactly what happened. Within less than a couple months, our listings, my listings I created were featured as the first, regularly. That doesn't happen at random. You have to have the highest seller standards, which means the best feedback, lowest return case rate, loyal repeat customers and the like, and that is how things were. We rapidly grew our presence on eBay, and things were absolutely fantastic. I was so proud, and so satisfied, I was finally living out my dream, my most personal, meaningful dream.

Things continued so well on ebay, but, in April of 2018, ebay went through a massive purge of the top sellers in this category. We all communicated, and we all went through the same mistreatment and discrimination. One would, naturally, think that ebay would want to keep the most valuable sellers to them, and not those who were very much obviously frauds, right? Nope. We each were personally singled out, I feel, because we were the top sellers, we were the ones with the most powerful, impressive Magickals, with the most notable provenance – they did not want any of that (the redistribution of power), taking place on their platform. The dead if that company have involvements and ties to other major companies in the US and around the world. Of course they don't want their inner circle items available for just anyone, and especially not right on their own platform. All that was left at that time was an entire category of 5,000, give or take, dybbuk boxes and "haunted" dolls. They made it impossible to succeed, removing listings left and right, but continuously blaming it in error, or on an algorithm. We were lucky to have 5 to 8 available listings at any given time, because they would constantly remove them, then suspend accounts, then you'd have to call and spend hours in the phone, again, all blamed error, fixed, then the same thing over and over again.

I was so frustrated with it, but eager and ambitious, and that was when I officially branded us, and opened the website.

Since then, things have run beautifully. We quickly amassed an even larger steady global clientele and online presence, and it still grows to this day.

I am able to do what I love day in and day out with this, to fulfill my true, innermost dreams, my spiritual purpose. I can do this from home, where I can be with my kids at the same time, and when school was in session, it gave me the flexibility to accommodate their schedules in ways that no employer that I know of ever, ever would.

This has brought such a drastic change to my entire life, my family, and our future. I have received so much from this Talisman, it has fulfilled its promises, and now I want to pass this on to one of you.

There are no activation rituals you need to do upon receiving this, it is completely ready for you to use. All that is needed is to invite this into your life, and the Blessings will come!

This synchronizes to you and your specific Spiritual Matrix, so keep it close, and in a special place when not wearing/carrying it. Even while sleeping, it is important to keep it near, like on a bedside table/nightstand. As you lay down for bed, take a few minutes for yourself to visualize your goals, aspirations, even if you aren't clear yet as to what they are. Your goal could be finding direction on what path to take, a name for your new business, inspiration for branding, literally anything that you want to do.

IF YOU FEEL INTUITIVELY PULLED OR ENERGETICALLY DRAWN TO ANY OF OUR MAGICKALS, KNOW THAT WE ARE HERE TO OFFER THESE RELICS TO ALL, REGARDLESS OF ONE'S ECONOMIC STATUS. YOU CAN BE ASSURED, WE TREAT ALL OFFERS WITH RESPECT AND DIGNITY, AND OPENLY INVITE YOU TO SUBMIT YOUR OFFER TO
THEHAUNTEDHIVE@GMAIL.COM

WE BELIEVE THAT EVERYONE DESERVES TO HAVE POSITIVE AND PROFOUND METAPHYSICAL EXPERIENCES, AND IT IS OUR MISSION TO SERVE FELLOW TRUTH SEEKERS AND SPIRIT KEEPERS; TO AWAKEN AND INSPIRE THE MAGICK IN OTHERS, ONE PERSON AT A TIME.