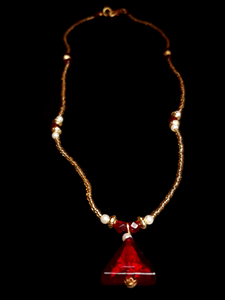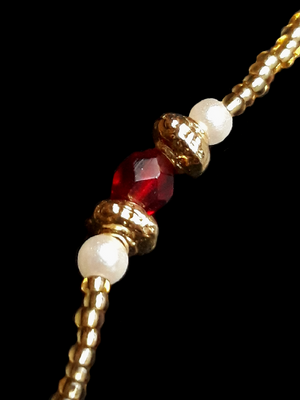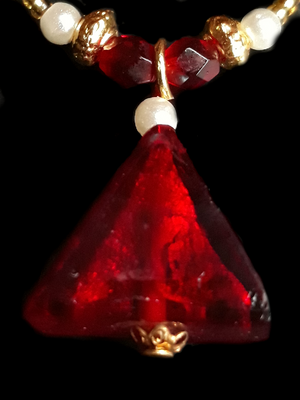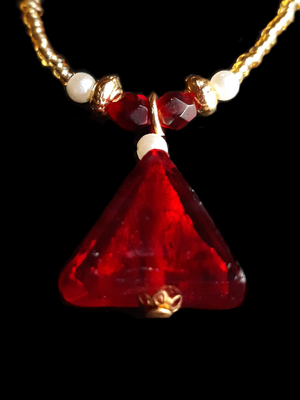 A Breath of Paradise, Holy Fire Alchemy of Murano
Regular price
Sale price
$100.00
---
PHYSICAL ATTRIBUTES
This is truly a special, stunning vintage necklace made of genuine Murano glass. Handmade in Italy, all Murano glass pieces are a work of art and are one of a kind. It is in excellent condition. Crafted by the hands of a Master Glassmaker using the highly guarded, special techniques held as Sacred to the Murano Glass Masters – many of which were developed over 1,000 years ago and have changed little since then – it is a beautiful necklace of extraordinary historical significance. It is small in size, with its triangle pendant/bead measuring less than one inch. 
KNOWN HISTORY
For your Metaphysical consideration, we are proud to present a piece you will not want to pass up.
We spent a lot of time investigating the rich Metaphysically and Historically significant roots behind this piece before it was even created, and it was worth every moment.
Now, this is a lengthy bit to read, but to sum things up, This piece contains the Power of the Sacred Holy Fire Alchemy of Murano, the Sacred Alchemy of the Dragon's Breath of Holy Fire that God revealed to Saint Donatus of Arezzo through the Dragon Respyrio, that has been guarded and at times obsessively hidden on the island of Murano. This is a rare form of Magick that cannot be accessed or used anywhere else on Earth except for Murano by the descendants of the original Glass Masters from the 13th Century. It is a Power from God that brings you what you seek, to sculpt your own Paradise.
It is a piece that tells an ancient story of Secrecy, Saints, Wealth, Dragons, and….Glass.
There is nothing else quite like true Murano glass. Created exclusively on the old, magickal island of Murano, it is revered for its rich, exquisite colors, it's beautiful and at times surreal patterns and shapes, each piece is a work of art. Yes, other places around the world have beautiful glass too, however, none of the glassware still being produced today has the rich, mysterious history nor the artistic and almost Otherworldly value that Murano glass has……
During the days of the late 13th Century , the Venetian glass making scene was one of intense Secrecy and Mystery, incredible Wealth and Privilege, which was radically – some would say
obsessively
– protected by the Government.
Although glass was originally made throughout Venice, as Venice's convenient location gave it a monopoly of Power in trade, being at the crossroads between East and West – In 1291, the government of Venice banned all glassmaking furnaces from central Venice, moving them instead to the mysterious, old island of Murano – located within the borders of the city of Venice in Northern Italy. Another law passed in 1295 forbidding the glassmakers from leaving the island of Murano.
These were tactical moves, to keep the secrets of their art contained to the island of Murano. But, it was definitely an "
I'll scratch your back if you scratch mine
" kind of deal.
The Glass Masters lived very full, happy lives in what they called their "Isolated Paradise" of Murano. They did not feel trapped in any way despite the radical law forbidding they ever leave, because none wanted to. They lived a privileged social status, and their daughters were allowed to marry into the wealthiest and noblest of Venetian families. They lived lives of Luxury and Monetary Fortune, having all they could ever need or want on the Island of Murano.
By applying this clever approach, the Venetian Government ensured that the Glass Masters would want to keep their Secrets of Trade within their Bloodline. It was more than encouragement for their offspring to carry on the trade, growing up in Wealth, Art, and Riches. And so, the trade secrets stayed in the families of Murano and fueled creative processes leading to innovation and further success for centuries.
Master Glassmakers still use the highly guarded, special techniques held as Sacred to the Murano Glass Masters, passed down Generation after Generation, and are still overseen by the Brotherhood of Glass Masters to this day.
So, what exactly is so special about Murano glass? And why the Venetian obsession with keeping Murano and the glass Masters isolated? Murano glass is glass in the basic, chemical sense of the word. However, Murano glass is to window panes, as a Picasso is to an empty canvas. There is much more within its creation aside from silica, soda, lime and potassium, and no, we're not talking about gold/silver foil, nor copper, cobalt, zinc, or manganese colour accents either.
The true Magick of Murano glass is a heavily guarded Secret that has been hidden so, long before Murano glass became known as Murano glass in the 1200's.
The key to what lies behind its Magick can be found behind the altar in the old age early church of Santa Maria and San Donato, located on Murano, one of the oldest in the Venetian lagoon, originally built in the 7th century. It is the church of Saint Donatus of Arezzo.
The Church of Santa Maria and San Donato contains the relics of Saint Donatus of Arezzo as well as large bones behind the altar said to be the bones of a dragon "slain" by the saint. The Dragon, Respyrio, was not actually
slain,
but was actually the recipient of one of the many Miracles of Donatus, and of the Power of the Holy Fire from God, but that is an entirely different story which you can find
here
.
The secret "ingredient" is part of a rare form of Divine Magick discovered nearly 1,000 years prior to the Glass Masters, by Saint Donatus of Arezzo. It is a form of Sacred Alchemy, revealed to Donatus through the Dragon Respyrio, by God.
This is why the island of Murano was so significant, as In 1125, Donatus' relics and those of the dragon Respyrio were brought to the Church of Santa Maria and San Donato on the island of Murano. The Venetian Government obviously was well aware of the Power hidden within the relics and bones behind the altar of this church, and so kept the Glass Masters on Murano – to use this Power, and to Protect it.
The exact constituents of this Sacred Alchemy are known only to the Glass Masters, and it is based from the Holy Fire Breath of the Dragon. The Holy Fire of the Dragon's Breath was able to impart the Divine Magick of this Alchemy in ways that no manmade furnace on Earth ever possibly could, bringing the ones using this Power – the Glass Masters – the Alchemical manifestation of their needs and wants, giving them all that they needed and wanted. It is the act of using this Sacred power that bestows the user with it. Only the Glass Masters hold this miraculous Power. The Secret ingredient that makes real, genuine glass made by the true Glass Masters of Murano, is the Sacred Alchemy of the Dragon's Breath of Holy Fire.
We took a Murano glass sculpture with us the last time we were in Italy to investigate what we could. We never, ever expected our investigation would lead us to the heights we reached!
We made our way to Murano, to the Church which holds Saint Donatus' relics and Respyrio's bones, which was an event in of itself. First you have to head north from the train station in Venice and find a pier along the northern coast, then buy tickets to sail you to the island you want, as Murano itself is actually made of seven islands that make one large one. Once you debark the boat on Murano, you have to go to the central island and make your way to the very confusing road (which was done intentionally), Fondamenta S. Lorenzo— which loops around the eastern coast and changes names along the southern coast to Riva Longa.
Anyway, We traced the sculpture back to its Glass Master. Upon meeting each other, all of us, including the Glass Master, all felt the world become a bit smaller. This Glass Master already knew of us. His sister had purchased several items from us before, back when we were using eBay as our platform. He invited us to stay in Murano as his guests for the remainder of our investigation – which we accepted with honor. His sister ended up coming up, and there was a series of dinners (
feasts, I tell you!
) with several other families who were all descendants from the original Glass Masters, sharing stories and experiences of their families over the generations, old photos, albums, and beautiful creations of glass. I cannot name exact family names, out of respect, and for their own safety and wellbeing.
They invited us into their Sacred process of making genuine Murano glass, and we had the distinct privilege and honour of witnessing the Magick. We cannot go into detail about the process, but the rich, vibrant, saturated hues are but a pale comparison to the beauty of this process, which is more like a Ceremonial ritual, really. To quote the famous poet Gabriele D'Annunzio from the book
Il Fuoco
:
"…the human gestures were extraordinarily agile and light around those elegant creatures of the fire, the blown and the iron, like the gestures of a silent dance ."

From this Unforgettable experience, this very special piece was made that is Metaphysically unlike any other available to the public – containing the Power of the Secret ingredient of the Glass Masters, the Power of the Holy Fire Alchemy, the Sacred Alchemy of the Dragon's Breath of Holy Fire.

With this Piece, you will have the Ability to access and use its Power, just as the original Glass Masters of Murano used in the 13th Century. This Sacred Alchemy can bring you all that you seek in this life, not only to survive, but to thrive in Abundance and Happiness. If you need money, it will bring you Wealth; if you feel lost or stuck In a rut, it will bring you Direction and Wisdom; if you seek Advancement and Progress in your work/career, your reputation or in your Spiritual Journey, it will open up doorways and paths of perfect Opportunities so that you may accomplish what you desire. It is a Power that is Sacred that comes directly from God, and it will only bring you Goodness and Blessings of White Light.

This is a very, very special piece that is to be in the hands of One who will treat it with the Respect that its rich Metaphysical provenance deserves.
If you feel intuitively pulled or energetically drawn to any of our Magickals, know that we are here to offer these relics to all, regardless of one's economic status. You can be assured, we treat all offers with respect and dignity, and openly invite you to submit your offer to
thehauntedhive@gmail.com
We believe that everyone deserves to have Positive and Profound Metaphysical experiences, and it is our mission to serve fellow Truth Seekers and Spirit Keepers; to awaken and inspire the Magick in others, one person at a time.