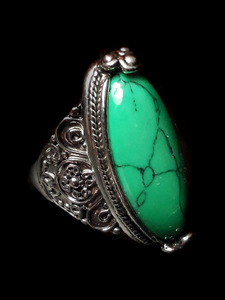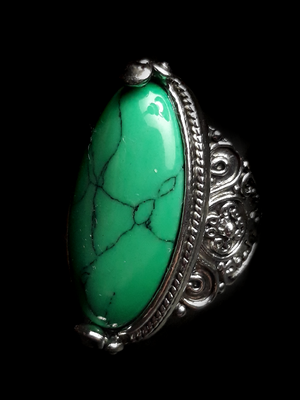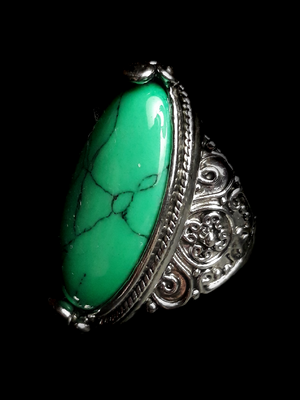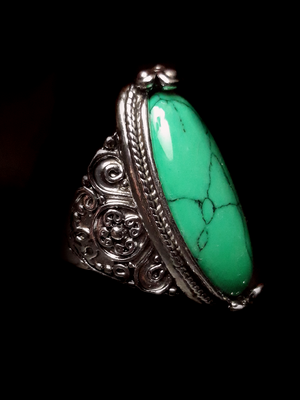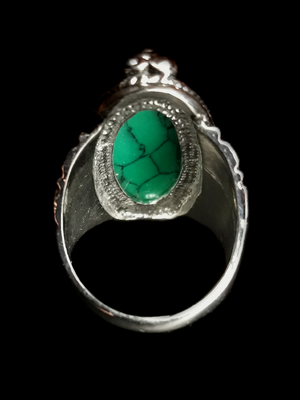 Fountain of Wealth Cash Multiplying Aggressive Money Attraction Talisman of Original Tried & True Proven Master Spells by 13th Generation Mixed Magick Natural Witch, Athena
Regular price
Sale price
$125.00
---
PHYSICAL ATTRIBUTES:
Size 9 - 9.5
Intricately crafted with very fine details on a mixed metal band, centering a crown rich with a green hue, of which the exact composition of is unknown, and has not been analyzed by a professional 3rd Party jeweler. Truly striking and in good preowned condition.
KNOWN HISTORY
For your metaphysical curiosity, we are very pleased to offer a Talisman of serious Money Attraction and Cash Multiplying Power; using Original, Tried + True Master Spells, that have proven their efficacy so many, many times.

Metaphysically & Magickally Crafted by Advanced Mixed Magick Arts, Powerful Natural Born 13th Generation Natural Witch, Athena; one of the very, very few still living on this Earth to have such a Deep Heritage of Family Genealogy in Supernatural Roots.

This Magick is unique to her & her Bloodline only- you will not encounter or have the opportunity to experience this Magick anywhere else on Earth. Her work provides aggressively Powerful, precise, and effective results, as has been Proven countless times in her life.

You can read more About Athena here.

The intricately woven, exquisite set of energies within this fine metaphysical offering will give you the chance to change the way you live your life forever.

This Offering has been Metaphysically & Magickally Crafted in a very original and genius way, an Energetic Transference which Athena compares to Evaporation and Precipitation.

Wherever you go, it's Metaphysical inner workings are designed to extract all Wealth, Money Attraction, and Cash Multiplying Energies from everywhere around you, siphoning them from their sources ( Energetic Evaporation), then showering you with these Energies (Energetic Precipitation).

This Powerful Talisman will bring a Fortune of Money Manifestations to its Lucky Keeper, showering you in a Fountain of Wealth, using Athena's bloodline formed Magick, developed over centuries by integrating Alchemy, Natural Powers, Ancient Egyptian Magick, Celtic Druid Sorcery, Traditional Paganism, Wicca, Astrology, Gypsy Magick, Herbalism & more with one another to bring Universal Good Luck to its Keeper. Master level spells, enchantments, procedures & rituals were performed onto this Incredible Talisman, as a massive attractant of all things centered around prosperity, money & wealth.

Use this unique Metaphysical Tool to Take Control of your Future! With this, you will significantly up your odds & Influence the Energies around you to work in your favor!

You will be surrounded by an Unbreakable, Wealth Manifesting aura that will enable you to achieve Wealth & Riches that most only dream of. Win when at the casino, when gambling, scratch off tickets, bets, games of Chance, the lottery, find money in unexpected places, receive unexpected money - all are Gifts & Blessings waiting for you from the Universe, once this Talisman has aligned to your Energy! Become a beacon for wealth, and live the life you desire to live.

Clients of Athena's that have had the opportunity to possess Talismans of hers embedded with this specific Spellcasting formulation of Tried + True "Fountain of Wealth" Magickal inner workings have given such awesome testimonials and feedback, Winning games of chance multiple times like Scratch off tickets, daily lotteries, some have won major lotteries like Mega Millions, getting raises and promotions, finding cash in surprising places, and more.

The processes of invoking and harnessing these energies, and infusing, bonding them within a physical piece like this is requires absolute skill and dedication, unfaltering will, and experience that can only be learned through countless rituals and hours of practice, to complete a feat so Supernaturally Involved, Magickally Woven, & Metaphysically Orchestrated.

All physical & spiritual forces, all human & non-human consciousness are all manifestations of "Energy". It is this power, which is said to be the 'power of the gods', that can be used to heal and destroy, Create Life & Give Power. It is this power which must be understood and harnessed to truly work with the Universe, which Athena has mastered. Energies exist vibrantly around us all at all times. We, as people omit energies. The earth omits energies. The sun, moon, and stars omit energies. It is the unseen force surrounding you when you are awake or sleeping. Energy is Everywhere. Behind every object and person is an atom and behind every atom is an energy. Each of us act as a walking energy or a walking battery. Everything has a specific type of energy or energy signature, a life source energy, or "chi" is behind everyone & everything.

You know when you are in room & someone walks in & you can feel their energy? Each person changes the dynamic, the "feel" of the room. Or, the saying, "when they walk in they just light up the room" with their Energy. Now, imagine this concept on a much larger, more Cosmic scale - harnessing, manipulating & directing Specific energies & Forces & infusing them within and of an object to create very specific Enigmatic influences, Vibrational frequencies, Manifestations & results, be it to create good, to create wealth, happiness, physical changes to the body, Psychic - Cerebral changes to the mind, etc. Athena harnesses these energies, securing them from naturally occurring sources, and infuses them within objects using her own Natural Powers & the Mixed Magick Arts of her Bloodline.

Draw the Bounties & Blessings that the Universe holds for you! Live the Life You've Always Known You are Meant For! Experience Your Personal Destiny & Embrace the Gifts the Universe has in store for you!

Do you wish to continue on as you have been your whole life, or are you ready to seize this rare opportunity & propel yourself forward into a future that is full of Magickal Opportunities? Do you want to experience Life at the forefront of Luck & Good Fortune? The choice is yours & yours alone! Many go their entire lives just waiting for Luck to find them, until One day they realize they regret not taking action long ago.

You will never realize your full potential & all that you are capable of if you never try! What are you waiting for? What are you afraid of? When exploring Good Luck, there is nothing to fear but fear itself!

Greatness has never been achieved by idleness & contempt. Take your journey where ever you desire! Whatever you desire can become your reality!

The moment this Talisman enters your Life, it will forever be Changed for the Best. As soon as you unwrap this Magical Treasure it will commence the aligning of your personal energies to Universal Wealth and Abundance Frequencies. It's undeniable Energy can be felt intensely, so much so that I highly recommend being seated when opening the package. When making first contact with Talismans of such Great Power, you may experience a sense of lightheadedness, feelings of Happiness, Excitement, a sudden sensation of Relaxation, or Euphoria. This is the Energies around you, through the Magick & Energy of this Talisman entering your life, intertwining with your own Psionic Energy and Spiritual Matrix. These sensations are signs that you are on the Cusp of a new Life. In every stage of life, we have new challenges & tests, but also opportunities, all of which require Commitment & Intention to move forward, to Progress towards being the best human you can be, to fulfilling your life's potential for Success & Happiness. This is your chance to use the Energies of the Universe constructively, to Manipulate them to your dreams & desires.

Become who you are meant to be with this Powerful Talisman & Unlock the Great Powers of the Universe that await you & become the Powerful Being you are destined to be! This same Magick has Granted Fortunes, Fame and Success, Vast Wealth & Riches in many that will allow you to Live the Life you know deep down you were meant for.

Get ready for your life to change quickly! This is a Piece with Exceptional Powers! It is an Excellent Tool for the Beginner or the Most Accomplished Practitioner! The Mixed Magick Arts infused within this will cradle you Riches & Luxury forever, as this Magick is Unbreakable.

In order for this to work, there are no binding rituals or spells you need to do, it is completely ready for use. All you need is to Believe that it will & set aside a small amount of time each day, even as little as 1-2 minutes where you can sit quietly, hold the piece, and let it's energies enter & cradle your body and spirit, visualizing how you want your Life to be.

You may see wealth & Money, vacationing & traveling, homes, cars, clothes, the feeling of not having to worry about money, the Excitement of not having to work out of necessity & obligation, the Opportunity to do the things you have always wanted to do, the Adventure that awaits in not having the daily stresses & obligations that have always tied you down, the Freedom of Getting to Go Wherever you want, Do whatever you want, Buy whatever you want, Whenever you Want to. Play this in your mind, see it all! With this Powerful Talisman Infused with these specific Energies & your Energy aligned to both them & this Amulet, you are showing the Powers within your Desires & Wishes, your Intentions & Wants, so that they can manifest them & create it as your reality.

This does need to be worn as a ring or necklace, or kept on your body in some way (in a pocket for example). However, when not wearing, You may wear place it in a purse, or place it near your bedside while you sleep, to accelerate the Cosmic alignment to your Energy & your Desires! You can keep it on your Altar or another special place in your home, wherever feels right to you!

The dedication, elite skill, powers, and pure Magick that it took Athena to Create this Powerful Talisman is something I am very, very proud of, & gives me immense pride to be able to offer it via this unrestricted, one time only listing

If you have been Searching for a Break, a way to change your Finances, your Money, Wealth, your Life, if you long for a Chance to Break Free of the Confines of living paycheck to paycheck, a way to do what you Truly Want with your Life, then this is your opportunity. It is time to cast aside doubts, regrets and fears & Step Into The Light! You can live the life you've always known you were Meant For & Gain all that You Desire!

The time is now to take a dip in the Fountain of Wealth! Please keep in mind, there are only Two of these available! The Magick that goes into each is very involved and extensive, and can only be performed on the 12 Nights of a Solstice Eve.

One does not need to have any prior experience with this Talisman, it is equally ideal for both those new to the exciting world of Psychic Empowerment, and to those who are experienced, as it adapts to each person's individual life and Spiritual experiences.

This does not require you as the Keeper to perform any rituals or bindings upon arrival, it is completely ready for use.

May the person that desires this most emerge victorious & go on to live a lavish life, filled with luxury, comfort, spoils, toys, vacations, properties, but moreso than anything, may they live Life with the true Peace & Happiness that comes from Wealth!
If you feel intuitively pulled or energetically drawn to any of our Magickals, know that we are here to offer these relics to all, regardless of one's economic status. You can be assured, we treat all offers with respect and dignity, and openly invite you to submit your offer to
thehauntedhive@gmail.com
We believe that everyone deserves to have Positive and Profound Metaphysical experiences, and it is our mission to serve fellow Truth Seekers and Spirit Keepers; to awaken and inspire the Magick in others, one person at a time.